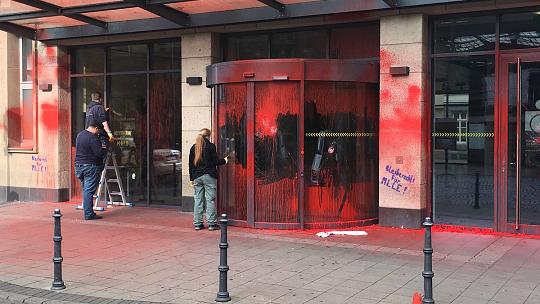 29 ottobre 2016
Nella notte a sabato 29 ottobre attivistx autonomx hanno marcato con la vernice la facciata dell'ufficio stranieri/cittadini alla stazione principale di Aachen e danneggiato i vetri e l'entrata. L'entrata fu vastamente pitturata di rosso con l'aggiunta delle scritte "espulsione è omicidio", "diritto di rimanere per tuttx" e "No Border, No Nation". I vetri adornati con vari buchi e grandi spaccature. In questa notte dex attivistx approfittarono della possibilità notturna per esprimere il proprio disappunto sulla politica di migrazione dello Stato.
Dappertutto in Europa e nel mondo, delle persone lottano per il diritto di muoversi liberamente e così salvare e autogestirsi le proprie vite. Gli Stati europei tentano di impedirlo, come si chiarisce attualmente anzitutto a Calais ma lo stesso è accentuato giorno per giorno anche dalle autorità tedesche: si chiudono le vie di fuga, dex profughx sono rinchiusx nei lager e di nuovo espulsx in circostanze senza uscita e che minacciano le loro vite. Ogni amministrazione e organizzazione che vi partecipa, sia ufficio stranieri sia ONG, è direttamente corresponsabile e perciò bersaglio legittimo. La lotta contro i confini e gli Stati continua quotidianamente. La politica dell'isolamento e delle espulsioni devono essere attaccate in modo vario e sono da creare delle strutture alternative di libertà e di solidarietà.
No Border, No Nation, Stop Deportation!
Freedom of Movement and the Right to Stay for All!
Fonte: Linksunten
Traduzione dal tedesco mc, CH